"No sustain­abil­ity, no commer­cial success"
Michael Träxler is convinced that noth­ing will func­tion in future if sustain­abil­ity is not part of the equa­tion. An inter­view with the Head of the Evonik Active Oxygens Busi­ness Line about chem­istry and sustain­abil­ity, personal commit­ment, and his messages to employees.
Mr. Träxler, why is sustain­abil­ity so impor­tant to Evonik Active Oxygens?
Michael Träxler: We regard four points as being partic­u­larly impor­tant. First, the "end of life" issue plays a major role in sustain­abil­ity. What happens to a prod­uct at the end of its life cycle? The chem­i­cal indus­try and other indus­tries are strug­gling here. It's great news in our case, because hydro­gen perox­ide degrades into water and oxygen at the end, and peracetic acid also degrades into acetic acid — in other words, into noth­ing but unpol­luted substances. That's why we have no "end of life" problems.
There is an incred­i­bly large number of appli­ca­tions, such as food, elec­tron­ics, water treat­ment or medical tech­nol­ogy, for hydro­gen perox­ide, peracetic acid and persul­fates. These are all indus­tries in which global mega­trends are bring­ing about massive change. This also applies to green space travel, chem­i­cal synthe­sis or the large paper segment. It's all about the hand­print: how can our prod­ucts contribute to increas­ing sustain­abil­ity in each segment? That is my second key point.
My third point is: there are only a few indus­tries that have a CO2 neutral­ity roadmap like we do. We are aware that this jour­ney will not be easy and will cost many hundreds of millions of euros in invest­ment. But in the case of hydro­gen perox­ide, for exam­ple, what ulti­mately matters is having sustain­abil­ity paths for hydro­gen, elec­tric­ity and steam respec­tively — and all of those exist.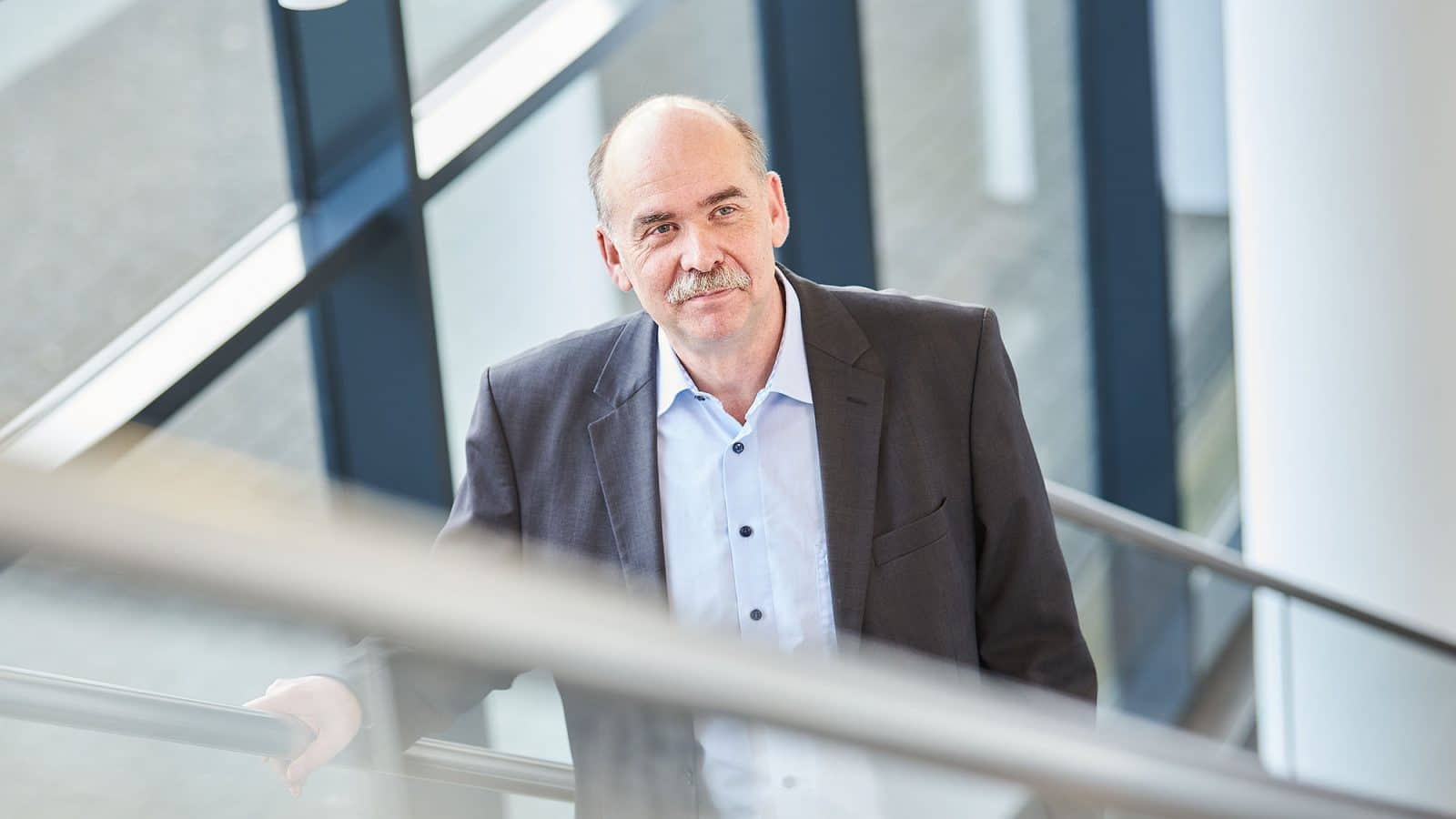 A roadmap is one thing. But what is tech­ni­cally feasi­ble right now?
It's no longer a ques­tion of how. In tech­nol­ogy terms, the issue has been resolved: we already have green elec­tric­ity, and in fact we already use more than 80 percent green elec­tric­ity at our produc­tion sites world­wide. I can obtain green hydro­gen if I have enough green elec­tric­ity. That's the big issue in indus­try right now, but it's tech­ni­cally feasi­ble. And as far as steam is concerned, what matters is gener­a­tion using renew­able ener­gies and reduc­ing consump­tion. I am pleased that we at Evonik Active Oxygens have already sketched out a concrete roadmap to take us to CO2 neutral­ity. That is fantastic.
Those are my three main argu­ments. My fourth is that demand for hydro­gen perox­ide is grow­ing world­wide by seven to eight percent a year, driven by high demand in growth segments like food or elec­tron­ics. This presents us with partic­u­lar chal­lenges. If we do noth­ing, our CO2 emis­sions will double every nine years — and that must not be allowed to happen.
The acqui­si­tion of Perox­y­Chem has now massively increased CO2 emis­sions. Never­the­less, Evonik Active Oxygens will help the Group achieve its climate targets in the future. How does that work?
The acqui­si­tion of Perox­y­Chem is a major boost, not only to sales and earn­ings, but also in terms of CO2 emis­sions. But we are well on track — for exam­ple, in addi­tion to green elec­tric­ity, we are also switch­ing from fossil-based acetic acid to bio-based acetic acid.
We have just started a major invest­ment project, the aim of which is to increase our own produc­tion effi­ciency. For exam­ple, how do we reduce elec­tric­ity or water consump­tion? Despite a massive increase in produc­tion volumes, our CO2 emis­sions are falling, because we are taking coun­ter­mea­sures – and because we started in good time.
Mega­trends are a world­wide phenom­e­non. Does that also apply to sustainability?
To start with, sustain­abil­ity was a Euro­pean topic — espe­cially when Donald Trump was pres­i­dent of the USA. In the mean­time, sustain­abil­ity has also become much more impor­tant in other regions, espe­cially in North Amer­ica. But regional, and in some cases even local, differ­ences remain, of course. Compared to our, we at Evonik Active Oxygens were among the earli­est to start cham­pi­oning the issue of sustain­abil­ity. Speed matters — not just as far as sustain­abil­ity is concerned. We have to be fast with­out losing sight of safety. The same applies to our customers around the world.
How impor­tant is it to form strate­gic alliances with part­ners in order to main­tain this speed?
Collab­o­ra­tive ventures with customers and part­ners are impor­tant. We analyze chal­lenges of the future together. We cannot solve prob­lems only when they arise. We have to ask this ques­tion now. What is likely to happen in 2030? What is likely to happen in 2040? And what is likely to happen in 2050? What will we have the confi­dence to under­take in which region with which part­ner by what date?
Sustain­abil­ity has three dimen­sions: envi­ron­men­tal, economic and social. How does that tally with economic sustain­abil­ity, if massive invest­ments have to be made to take account of the envi­ron­men­tal dimension?
They are two sides of the same coin. In my view, commer­cial success is completely unachiev­able, if we don't manage to make some head­way with estab­lish­ing a sustain­abil­ity archi­tec­ture. Our customers demand it, our current and future employ­ees demand it. And focus­ing on sustain­abil­ity is essen­tial for our survival as a company.
What role do your employ­ees play in the objec­tive of becom­ing more sustain­able as a company?
Our primary objec­tive – which takes prece­dence over any finan­cial issues – is that our employ­ees feel comfort­able work­ing with us and that they are safe. Every­one should go home in the evening in the same state as when they arrived in the morn­ing – mentally even in a better place, because we really enjoy what we do. The same applies figu­ra­tively to sustain­abil­ity. We have a respon­si­bil­ity to see that the world remains in a state that every­one can enjoy. We at Evonik Active Oxygens alone won't save the world, but every­one has to play their part, no matter how small.
Now some people say chem­istry and sustain­abil­ity aren't really compatible …
We have to be honest here and say: yes, we embody chem­istry. Chem­istry gener­ally has an image prob­lem, and mistakes have been made in the past. On the other hand, there can be no trans­for­ma­tion with­out chem­istry — no car battery, no wind power, no appro­pri­ate build­ing insulation.
Hydro­gen perox­ide is also chem­istry. But hydro­gen perox­ide also occurs in the human body, in nature. When it rains after a thun­der­storm, hydro­gen perox­ide is found in grass­lands. Hydro­gen perox­ide is found in honey, in roasted coffee. It's a green, natural prod­uct that we don't have to be afraid of.
My message to our employ­ees is: you will only have long-term job secu­rity, if you work in an indus­try that has a future. And we need chem­istry, other­wise there will be no progress.
The big-picture objec­tive is one thing, but what about tangi­ble measures on the ground? For exam­ple, doing away with dispos­able cups …
… or motion detec­tors every­where, so that you don't consume unnec­es­sary elec­tric­ity. We have installed motion detec­tors at many of our sites, most recently in New Zealand. If there's a wind­mill in Antwerp or solar panels on the roof in New Zealand and in the future in South Africa, people see that. We also have solar panels here in Hanau.
Minor details also play a role. Does the room temper­a­ture have to be 23 degrees Celsius in winter or are 20 enough? How do I venti­late prop­erly? Topics like that.
Are you your­self a role model cham­pi­oning more sustain­abil­ity? What are you doing?
Our candi­dates for the Federal Chan­cel­lor­ship were also asked a simi­lar ques­tion. I think the honest answer from all of them should have been, and that goes for me, too: not enough.
I, for exam­ple, believe 20 degrees Celsius room temper­a­ture in winter is suffi­cient. If I get cold, I put on a sweater. Every degree less reduces elec­tric­ity consump­tion. And I also pay atten­tion to other things, such as nutri­tion. I can't do with­out meat alto­gether. But I do try to eat locally produced food.
We have not yet got to where we are supposed to be. We all have to put in a great deal of effort to get there. But I hope that some people — and I would claim that for myself as well — have real­ized that things cannot go on as they have in the past few decades. You can try to be a role model, but that's no triv­ial matter.
It's clear how close to your heart this topic is. Why is sustain­abil­ity a concern for you personally?
Sustain­abil­ity is not just about foot­prints and hand­prints, sustain­abil­ity is more. And that's why I like work­ing at Evonik. It's the culture and the concept of social skills that a company or a divi­sion has. Big issues like co-deter­mi­na­tion, social bene­fits, and other stan­dards apply glob­ally at our company, includ­ing occu­pa­tional safety and envi­ron­men­tal protection.
The second point that really moti­vates me, and this is my firm belief: sustain­abil­ity is the nucleus, the focus, the basis of every­thing we do. Sustain­abil­ity is the start­ing point for every­thing, and with­out sustain­abil­ity, noth­ing at all will func­tion in the future. Every­thing else revolves around it — busi­ness success and decent jobs for our employ­ees. That's what I want to promote — inter­nally and externally.
We would have easily achieved better results last year, if we hadn't switched our elec­tric­ity "to green". But in the end, these are the things that matter. And in that respect, we have to get our people on board. It is a matter of personal concern to me that we make further progress here. This has to do with common decency and atti­tude. By living up to our own values and being respon­si­ble toward our employees.